5 Questions with Manufacturing Engineer Emily Shook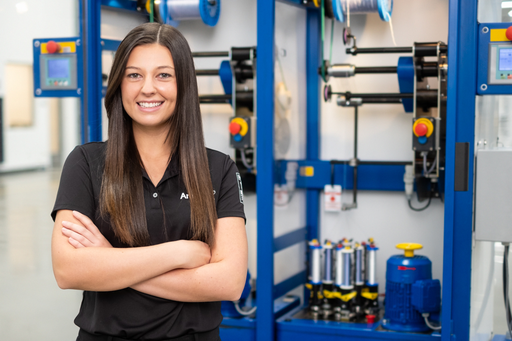 Manufacturing Engineer I Emily Shook became an engineer because she wanted to help others. As a sutures engineer at Arthrex, she found a job where she can do just that. Read on to learn more about the South Carolina native's role, why she likes being part of the Arthrex Manufacturing Inc. South Carolina (AMISC) team and why she loves where she lives.
What does a typical day at Arthrex look like for you?
Being a part of the start-up at AMISC means each day is different. Some of my bigger projects that I consistently work on every day include:
Validating machines and getting them into production
Working with my Inc. colleagues on approvals to start making various product codes at AMISC
Working with the operators on continuous improvement projects
Setting up and implementing production requirements
What do you enjoy most about your job?
In deciding to become an engineer, my goal was to use my skills to help others. Working for Arthrex helps me accomplish that each and every day. Our products are impactful to so many individuals and I'm grateful to be a contributor. Sutures specifically are already making such an impact, but I believe there is so much more potential that we are tapping into as a company! I also love that I am constantly learning something new every day. I often joke that my brain hurts when I leave work from using it so much, but in a good way.
What has been a highlight during your time at Arthrex?
The highlight of my job is the reflection I can make each day as I visit the clean room where we make our suture products. When I first started, we were still in a temporary office and needed hard hats to even enter the plant. The clean room was completely empty, and we had just hired four suture operators. Now, we've filled up the room with equipment and tables, the best and most hard-working operators, and we are making a wide variety of products to help contribute to the demand from our health care providers. I've seen and continue to watch all of us grow together and are so proud of what is being created here at Arthrex.
Also, as a native to the area, I am so happy to see what this facility has done for our community and I am so excited to be a part of it.
Our core value is Making People Better. How has Arthrex made you better?
Being part of the AMISC start-up, I have been given so many responsibilities that have challenged me and made me grow as an engineer and individual. I also have an incredible manager who teaches me skills beyond just engineering and encourages me to embrace every new opportunity.
What do you do in your downtime?
We are in the perfect location at AMISC; we have so many options for things to do within a couple hours, which gives the weekends so much potential. I enjoy being on the lake, hiking in the mountains, visiting the beach, or going to Charlotte or Atlanta for the day. I also enjoy trying new restaurants on the weekends and spending time with my friends and family. I have picked up a few old and new hobbies, including playing guitar (all things Taylor Swift), home renovations and golf!
Interested in joining the Arthrex team? See our latest career opportunities.