Arthrex Employee Lisa Thompson Becomes Second American Woman to Summit K2
Thirteen months of planning, hundreds of hours of training, 30 hours of air travel and 26 straight days of climbing, all for 20 spectacular minutes on the summit of one of the most dangerous mountains in the world.
Technical Support and Service-Repair Logistics Manager Lisa Thompson just added her most noteworthy mountain climb yet to her impressive list of expeditions. On July 22, she became the second American woman ever to summit K2.
Lisa arrived in Islamabad, the capital of Pakistan, on June 19 before starting the next leg of her voyage to get to the base of the massive peak. She wrote on her expedition blog, "…The journey officially begins today and I want to thank everyone who loved, supported and encouraged me so far. Your kind words…mean a tremendous amount to me now, and will become even more important to me on the mountain."
Located on the China-Pakistan border, K2 is the second-highest peak in the world, at 28,251 feet high. Because the mountain is known for its unpredictable weather, high avalanche risk and regular rock fall, it's a much more challenging climb than Mt. Everest, which Lisa conquered in 2016.
Lisa made the trip with 10 other climbers from around the world and a team of Nepalese Sherpa who she had climbed with before. The other mountaineers were strangers to her when the trip began, but they quickly became important to one another. She explained, "There was a strong element of teamwork. We all had bad days and we needed each other to help us keep going."
Before Lisa left for her expedition, she mentioned that teamwork has always been an important aspect in achieving her goals, whether it's in the office or on a mountain. At work, Lisa manages the Technical Support team, which has grown dramatically in the past year. Effective communication and having a shared goal lead Lisa and her team to success here at Arthrex and climbing thousands of feet above sea level.
Lisa has climbed 12 major peaks since 2009, not letting anything, from cautionary tales to her 2015 breast cancer diagnosis, stop her.
"I didn't let anyone or anything else decide my boundaries," she said, "There are people that I deeply respect who told me not to climb that mountain, but part of me knew I was capable of doing it."
Mountaineering is far more than a difficult hike. Every moment is a mental and physical battle. Lisa explained that even when the group settled down to camp for the night, they had to be in a harness tethered to the mountain so they wouldn't slip and fall when they stepped out of their tents. The cold was so relentless it eliminated their appetites, even though the climbers were burning about 3,000 calories a day.
"It becomes a mental game to make yourself eat. You have no appetite at all, but you need the nutrients to keep going," said Lisa.
One of the most nerve-racking parts of the expedition was the five hours the team spent climbing beneath a chunk of ice the size of a five-story building. "You have to come to terms with the risk you're taking by climbing a peak like this," said Lisa, "I studied what went wrong in past expeditions to make myself aware of what I was up against. It's necessary to be smart and honest with yourself about the situation you're in and think about the risk. Don't get too caught up with it, but you have to have a good balance of knowledge and determination to go anyway."
After a month of nothing but snow and ice, Lisa was finally greeted by the sight of green grass and the sound of birds as the group reached the end of their descent. "I even missed the smells!" she said.
She was moved to tears when she reached the village of Skardu, where they had first started their long trek to K2's base camp. "It finally started to sink in," she said, talking about her new title as the second American woman to summit K2, "It's sort of bewildering to think about."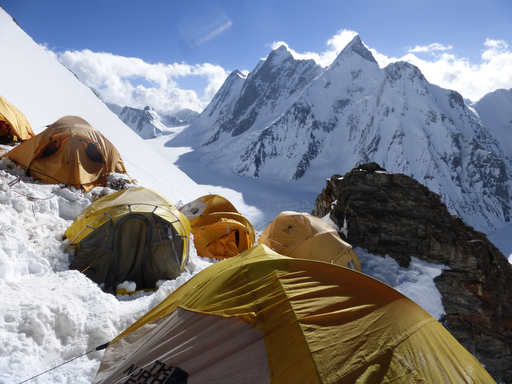 Lisa said that another comforting sound greeted the team as they approached the village − people singing. The mountaineers were ecstatic to find their Pakistani team awaiting their arrival, carrying "Welcome Back" signs, sodas and cake.
"You miss really simple things when you're surrounded by ice for a month," said Lisa. "Those seemingly small gifts were so exciting for us."
Lisa is looking forward to enjoying the simple pleasures of home again before her next big expedition. After climbing one or two big mountains each year for a decade, Lisa is ready for some balance in her life. She is relieved, excited and, most of all, grateful.
"I've had so much support from Arthrex and my coworkers. This was a big dream of mine and Arthrex's commitment to work/life balance allowed me to focus on it. I recognize how rare that is and I feel so much gratitude," she said.
See more of Lisa's climbing in the Emmy award-winning virtual reality documentary Capturing Everest, released in May 2017.