Employee Captures Veterans' Pride During Honor Flight
This Memorial Day holds a special meaning for Photography Retoucher Deanna Sakal after taking part in her third Collier County Honor Flight mission on May 13 for 72 WWII and Korean War veterans. Honor Flight provides veterans with a free trip to Washington, D.C. to visit the National World War II Memorial and other memorials in the nation's capital.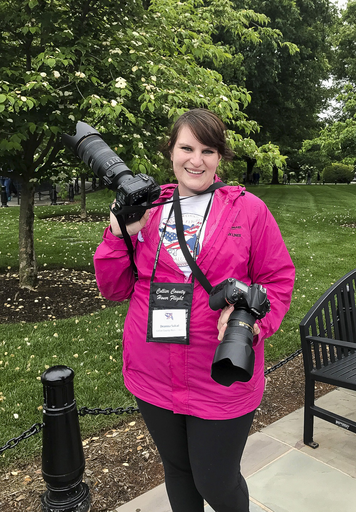 Deanna had the privilege of capturing the emotion and pride these veterans felt as the volunteer photographer for the flight. With a long military history in her family, her support of veterans is very personal.

"Both of my grandfathers served in WWII, my uncle served on an aircraft carrier in the Navy, my dad is a Vietnam Army veteran and my husband enlisted in the Army right out of high school, serving a year in Afghanistan," said Deanna. "These flights mean so much to the veterans, and the stories they share are endless. I love that I get to give back to these heroes by capturing and sharing the events of the day. My favorite part of these missions is seeing the number of people who want to welcome and celebrate the veterans as they arrive in D.C. and return home."

Arthrex sponsors many Honor Flights throughout the year with the Collier County chapter, which raises funds for the flights and connects veterans with guardians to help them during their flight. Many Arthrex employees have welcomed veterans back from their flights at local airports and supported missions as guardians.

Arthrex is proud to honor our veterans and the many employees in our company who have served in the military. Thank you for your service!

If you'd like to volunteer your time as an Honor Flight guardian or join part in the "Welcome Home" events for one of the next Honor Flight missions on September 23 or October 21, learn more here and call 239-777-9295 or email colliercountyhonorflight@gmail.com to get involved.

To view more photos from the Honor Flight courtesy of Deanna, click here.