Dedicated Employees Recognized for Milestone Years of Service
Arthrex hosted its annual Years of Service awards ceremonies on Friday, October 28 and recognized an impressive total of 276 employees celebrating five, 10, 15, 20 and 25 years of service!
Two employees hit special milestones this year, Sr. Vice President of Human Resources Kathy Sparrow and Vet Systems Project Manager Tony Gawaldo, each celebrating 25-year-long careers at Arthrex.
Kathy first learned about Arthrex when she spotted an index-sized job posting tacked on a bulletin board at Champlain College in Burlington, VT in the winter of 1991. She was looking for a second part-time job while in school and the 12-15 hours Arthrex needed for packing and shipping help fit the bill.
"When I first started in the original Vermont office, all inventory could fit in one double-door office cabinet," she shared. "I was one of just three on staff and I was willing to do anything to learn what I could – packing, shipping, answering the phone, entering customer orders."
Reinhold was still working from Germany at the time, but that was about to change. On his first day back in the Vermont office since Kathy had joined the team, he announced he was moving the company to Naples, FL.
The idea of going to Florida was exciting for Kathy but she second-guessed if she, as a part-time employee and college student, would be offered the opportunity to move.
"Yes! Can I go?" she thought. "I ended up being the only one free and willing to move."
The decision was easy, she says, thanks to Reinhold's advice to "follow your instincts. If it doesn't work out, I'll send you back home." He reassured Kathy and really treated her like part of his family.
So, off they went, packing the entire office into one small U-Haul in June 1991. Twenty-five years later, the rest is history.
"It mostly feels like it's been a blink," Kathy shares. "One day we were a small team pushing orders out and then about ten years ago it hit me how huge Arthrex had grown when I wasn't able to personally interview all new hires anymore."
Under Reinhold's leadership, Arthrex at its core has always been family-oriented she says. "He expects a lot but has always offered and continues to offer all of his employees great support."
Kathy's most inspired by Reinhold's drive and passion for a truer purpose and sees this dedication carried out by all employees through the company's mission – from the early days to now.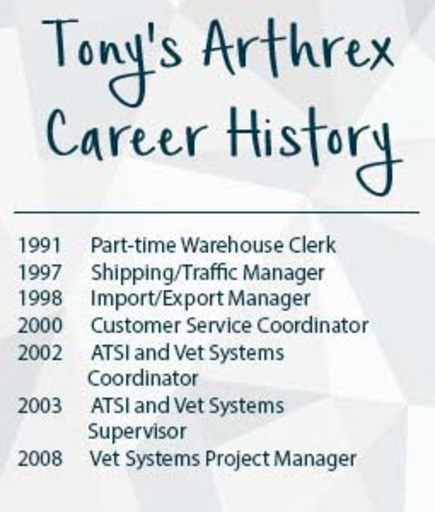 A few months after moving the company to Naples in 1991, Vet Systems Project Manager Tony Gawaldo came to Arthrex as a part-time temporary warehouse clerk. Soon he was hired on full time and he never imagined where the company would take him 25 years later.
"When I first started, the shipping area was just two desks back to back, with two metal racks where we housed all products," he says. "There might have been five to 10 boxes shipping out a day. Once we made it to 25 to 50 a day, we had a big celebration party in Charlie Cremin's garage!"
Now Tony manages the more than 30 Arthrex Vet Systems (AVS) medical education courses and exhibits that take place throughout the year all around the country.
Being part of Arthrex's tremendous growth has been "an experience of a lifetime," he says. "Not many people have the opportunity to see a company grow like this – let alone be a part of it."
Like Kathy, he credits Arthrex's success to Reinhold's leadership style of treating his employees more like family. "Reinhold always encouraged me to take risks, to try new things, to change for the better. He likes for his employees to be able to learn and grow. He's not just your boss, he's a friend."