Arthrex's Commitment to Environmental Responsibility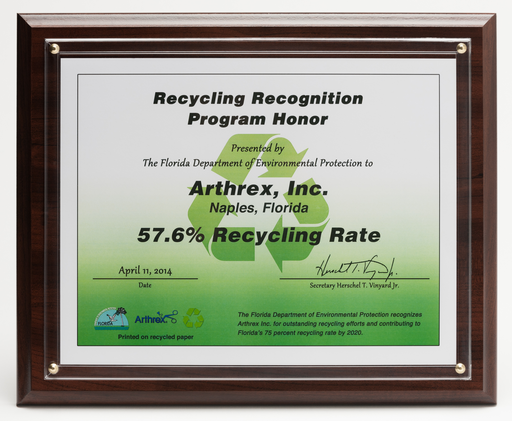 As a global company that designs and manufactures orthopaedic medical devices, Arthrex is committed to making people's lives better around the world. We are passionate about developing quality products that help surgeons treat their patients better, and the same passion for innovation defines our commitment to environmental responsibility.

Enormous amounts of energy and resources are required to design,manufacture and distribute our products worldwide. Arthrex understands this, and we promote environmental impact reduction in all product development stages, product sales and corporate facilities.

The Florida Department of Environmental Protection recently recognized Arthrex for its outstanding recycling efforts and achieving a 57.6 percent recycling rate. Arthrex was also recognized in 2012 by The Collier County Solid & Hazardous Waste Management Department's Waste Reduction Awards Program (WRAP) with an award for its innovative recycling programs.

We are committed to providing a work environment that is both safe and environmentally responsible. For example, Arthrex manufactures its products using different metals and plastics. Its CNC machines (computer numerically controlled) lathes make surgical devices and implants by milling engineered rods and screws out of bar stock, a process which creates leftover materials. These left over materials are collected and processed through a system which enables Arthrex to recover and reuse 4,320 gallons of oil a year!

In addition, each month, approximately 6,500 pounds of metal chips and other commingled metals and materials are collected and recycled at Collier County's recycling center. Left over plastics from Arthrex's molding processes are also collected and recycled, and close to 10,000 pounds of cardboard are recycled each month.


"Arthrex's processes and procedures significantly exceed the minimum required by law and the Florida Department of Environmental Protection has recognized our efforts," said Michael Dock, Environmental Health & Safety Manager. "We are very proud of the recognition we have received and we are dedicated to maintaining a workplace that keeps both our employees and the environment healthy."

Arthrex is committed to being a good steward of our natural resources. From featuring native landscaping and advanced technology irrigation to providing alternatives to disposable cups and using biodegradable cleaning materials, to using energy-efficient lighting and motion sensor switches in all of our offices and facilities, we continue to explore innovative ways to reduce and reuse materials and further minimize the environmental impact of our corporate and manufacturing activity.