What's in My Bag? Benefits of Synergy MSK™ Ultrasound Imaging
Featuring Orr Limpisvasti, MD
Anaheim Ducks Hockey Team

Orr Limpisvasti, MD, is a sports medicine surgeon and the medical director for the Anaheim Ducks hockey team. He also serves as an orthopedic consultant to many other professional athletes and sports teams. Here, Dr. Limpisvasti talks with us about ultrasound and specifically, the benefits of the wireless Synergy MSK ultrasound, a handheld, wireless ultrasound that transmits real-time images to an iOS or Android mobile device.


Q. How has ultrasound helped you treat your patients?
A. Ultrasound provides a non-radioactive modality for visualizing superficial structures in real-time. Ultrasound has allowed me to expand my treatment options and improve my injection technique; I have increased accuracy as I am able to visualize the medication as it is being delivered into the desired location. My diagnostic capabilities have improved significantly as well with immediate visualization of soft-tissue pathologies that drive treatment decisions without waiting for 'scheduled' imaging. I am able to effectively monitor soft-tissue healing intermittently to refine and often speed up the rehabilitation process post-surgery or injury. My patients immediately see value in the technology and are engaged in the treatment plans.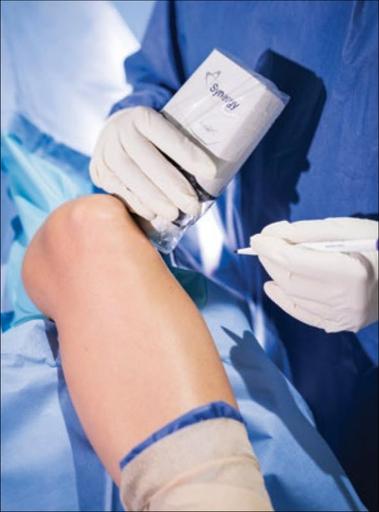 Q.What advantages do you see with Synergy MSK ultrasound?
A. The Synergy MSK ultrasound with its increased portability and quick setup improves workflow compared to larger ultrasound units as it doesn't require staff time to set up and move a bulky machine. With the iPad as the interface, it's easy to use and minimizes the button fatigue of more complex ultrasound systems on the market today. Patients are impressed by being able to visualize their pathology on an iPad and see real-time what is going on. With the current price point, my colleagues and I can better access an ultrasound unit and avoid scheduling issues.


Q.How has ultrasound helped with your current care of sports teams and professional athletes?
A. The portability of the Synergy MSK ultrasound makes it ideal for the care of sports teams because it can be taken on road trips and off-site destinations. Now I have the ability to diagnose in the training room whether at home or on the road. Increasing the availability of ultrasound allows for monitoring of healing and performing diagnoses of common contact injuries throughout the course of the season and post-season. Synergy MSK ultrasound allows me to provide improved care for professional athletes and provide teams with more information for making quick decisions.
Q.What technical pearls can you offer for learning to read ultrasound?
A. To improve my acumen with ultrasound, I often compare MRI scans that I would normally perform with new live-time ultrasound. I always compare any pre-op MRI scans to ultrasound in the OR prior to surgery to gain valuable feedback. Using direct comparison of ultrasound and arthroscopic surgical findings has also provided a means for improving diagnostic accuracy.


Q.What other areas could possibly be impacted by using Synergy MSK ultrasound?
A. With Synergy MSK ultrasound, the increased potential applications are numerous. Some that come to mind are the ability to use the system for procedures that require C-arms to be brought into the OR. The ultrasound would also work well for assisting in regional anesthesia and helping to manage certain complications in recovery such as hematomas, urinary retention and DVT.