Arthrex Redefines Medical Education with Release of Interactive eBooks


Medical schools across the country have started to integrate the iPad into their curriculum and educational setting. The benefits are obvious and far reaching. Students can access entire libraries of learning material from their mobile device, collaborate with each other and consume content in creative new ways that didn't exist before. eReader applications such as Apple's iBooks App allow for the consumption of fully interactive digital textbooks. Image galleries, videos, animations and 3D objects can all be part of iBooks and provide an engaging and immersive reading experience that takes learning to a completely new level.

Arthrex acknowledges these trends and sees advancements in mobile technology as a great opportunity to redefine the way orthopaedic surgeons can be trained and educated. An eBook task force was formed earlier this year with the goal to develop the company's next generation digital textbooks that will eventually replace traditional means of education. The talents and skills of Graphic Designers, Medical Illustrators, 3D Animators, Videographers, Multimedia Artists and Software Developers were harnessed in an effort to push the technological and creative envelope of digital publishing to the limit. Nobody knew that the task force was about to change the trajectory of Arthrex's medical education program forever.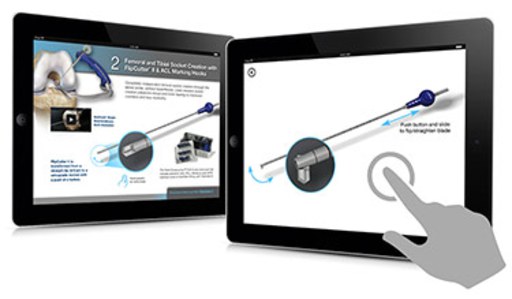 When the work of the eBook task force was first displayed at the AAOS meeting in Chicago earlier this year, everyone understood that a new era for product demonstration and surgeon education had arrived. With an iPad and Arthrex's iBooks, surgeons can now interact with suture anchors in a 3-dimensional environment, zoom in and out of high-resolution images such as x-rays and MRIs, watch surgical technique videos and take notes without ever leaving the eReader application of their tablet. With the touch of a finger readers can experience the mechanics of surgical instruments such as the FlipCutter and understand the sophistication of suture button constructs like the ACL TightRope. Medical device and surgical technique education has never been more engaging and educational at the same time.

By embracing mobile technology and transitioning from traditional to modern reading formats such as iBooks, Arthrex demonstrates its uncompromising commitment to innovation and education. The creative talents at Arthrex took the company's mission of "Helping Surgeons Treat Their Patients Better" very seriously when they set out to develop a new education format that would allow engineers, product managers and scientists to tell stories in ways that weren't possible before. They delivered highly interactive and engaging digital textbooks that teach medical professionals scientific concepts and surgical techniques in a multisensory fashion that will soon become the new standard of teaching.

Arthrex interactive iBooks featuring products and techniques are available for download by logging into Arthrex.com. For instructions on how to download, please see below.

How to download iBooks:
iBooks can only be viewed with iOS devices (iPad, iPhone and iPod Touch) and the iBooks App from the Apple App Store. A Wi-Fi connection for downloading the Arthrex iBooks is strongly recommended.

How to download iBooks from Arthrex.com:

1. On your iPad, open Safari and log on to Arthrex.com.
2. Navigate to the following page: http://www.arthrex.com/resources
3. Select "iBooks" from the "Resource Type Filter" on the left side.
4. Select one of the available links and let Safari download the file (this might take a moment).
5. Once the download is complete, select "Open in iBooks" and wait until the iBook opens inside of the iBooks App (this might take a moment).

How to download iBooks from a desktop/laptop:

1. On your desktop/laptop log on to Arthrex.com.
2. Navigate to the following page: http://www.arthrex.com/resources
3. Select "iBooks" from the "Resource Type Filter."
4. Select one of the available iBooks to initiate the download.
5. Once the download has finished, drag the file into iTunes.
6. Navigate to iBooks in iTunes, select the Arthrex iBook and drag/drop the iBook to the iPad.