Stay in the Game: Duke University Lacrosse Star Returns to the Field Thanks to Arthrex Innovation
For collegiate lacrosse star Anna Callahan, coping with injury was something she had to learn early. During her senior year of high school, an opponent fell on her fully extended leg on the lacrosse field, hyperextending her knee and causing pain that she kept pushing through until she got to college.
As a freshman at Duke University, a conversation with an athletic trainer about the feeling of instability in her knee led Anna to seek out Ned Amendola, MD* (Durham, NC), Virginia Flowers Baker Distinguished Professor of Orthopaedic Surgery and Sports Medicine Division Chief at Duke University.
Dr. Amendola diagnosed Anna with an injury to her tibiofibular joint, which is located between the tibia and fibula and can be easily confused with other knee joint disorders.
"Lacrosse is a very strenuous sport, and knee injuries are all too common," he said. "What Anna had is not very common, not like an ACL tear. With an injury like this, which isn't grossly unstable, we would often immobilize the joint and let it heal on its own."
When the conservative treatment approach didn't work, Dr. Amendola augmented Anna's tibiofibular ligament using the InternalBrace™ procedure. He secured the proximal fibula, one to the front and back of her tibia, with SwiveLock® anchors and FiberTape® suture. Anna said the relief she felt was almost immediate.
"This surgery literally saved me and my quality of life," she said. "I was worried about the injury all the time and the pain kept me up at night. I was pushing through, but it was tough."
With a stable knee (tibiofibular) joint, Anna said she was able to train harder and play better on the lacrosse field.
"Suddenly, I could trust my body again. My coach noted that I had hesitated to plant my leg before," Anna said. "It was truly night and day for me, and I was able to get much stronger and even more competitive."
Dr. Amendola says the beauty of the InternalBrace procedure is that it allows surgeons to repair soft tissue injuries in a minimally invasive manner. For many years, surgeons would use screws or grafts to stabilize the joint, which often made it stiff and associated with more morbidity.
"You have to protect the peroneal nerve that runs very close to the joint," he said. "A minimally invasive surgery is a much more attractive option. The InternalBrace procedure stabilizes the joint with much less trauma and provides stability right away during the healing process."
Today, Anna is a college graduate who is excited that her stable knee will allow her to compete in CrossFit, pickleball and even run a marathon.
"I am excited to work out for me - to be the kind of athlete that I want to be for the rest of my life," Anna said. "And thanks to Dr. Amendola and this surgery, I know I can do just that."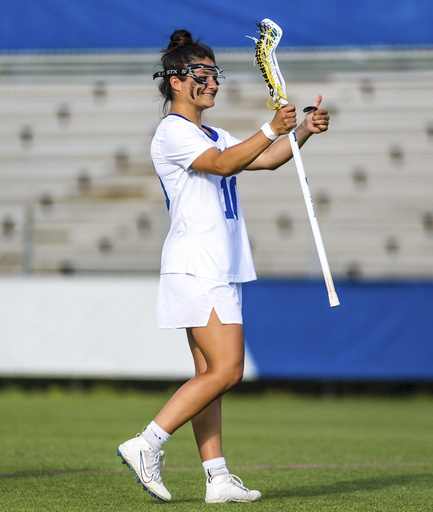 Disclaimers
The InternalBrace surgical technique is intended only to augment the primary repair/reconstruction by expanding the area of tissue approximation during the healing period and is not intended as a replacement for the native ligament. The InternalBrace technique is for use during soft tissue-to-bone fixation procedures and is not cleared for bone-to-bone fixation.
The use of this device may not be suitable for patients with insufficient or immature bone. The physician should carefully assess bone quality before performing orthopedic surgery on patients who are skeletally immature. The use of this medical device and the placement of hardware or implants must not bridge, disturb, or disrupt the growth plate.
This is not medical advice and is not meant to be a substitute for the advice provided by a surgeon or other qualified medical professional on the use of these products. You should talk with your physician or health care provider for more information about your health condition and whether Arthrex products might be appropriate for you. The surgeon who performs any surgical procedure is responsible for determining and using the appropriate techniques for surgical procedures on each individual patient. Arthrex recommends that surgeons be trained on the use of any particular product before using it in surgery. A surgeon must always rely on their own professional medical judgment when deciding whether to use a particular product when treating a particular patient. A surgeon must always refer to the package insert, product label, and/or directions for use before using any Arthrex product. Postoperative management is patient-specific and dependent on the treating professional's assessment. Individual results will vary and not all patients will experience the same postoperative activity level or outcomes. Products may not be available in all markets because product availability is subject to the regulatory approvals and medical practices in individual markets. Please contact Arthrex if you have questions about the availability of products in your area.
This real patient was compensated for the time she took to share her personal experience with her knee surgery.
*Physician is a paid consultant of Arthrex, Inc.