John Konicek Celebrates 15 Years at Arthrex by Enjoying a European Family Vacation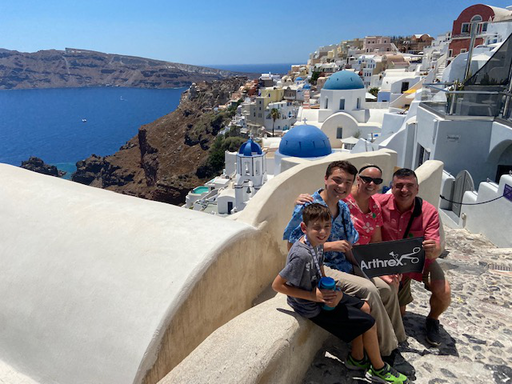 Biomechanical Testing Manager John Konicek recently celebrated 15 years at Arthrex by taking his wife and two sons on a European getaway.
The Konicek family enjoyed three nights in Rome, two nights in Venice and seven nights aboard the Royal Caribbean Brilliance of the Seas touring the Greek islands. They climbed to the top of St. Peter's Basilica in The Vatican City, took a gondola ride in Venice and enjoyed all the delicious food along the way.
John was most excited to spend time with his family and experience a new part of the world.
Given the ages of my boys and the timing of this trip, this was certainly the trip of a lifetime, he said.
John sends a big thank you to President and Founder Reinhold Schmieding for continuing to honor those individuals who are loyal to the Arthrex family.
When I explain Arthrex benefits to non-Arthrex friends and family, they are always surprised that this kind of program exists in corporate America, he said. just one more reason that I will forever remain Arthrex Proud.
For every five years of employment with Arthrex, employees are eligible for a company-paid Trip of a Lifetime to recognize their dedication. Look for more Trip of a Lifetime highlights on the Arthrex Facebook, Twitter, Instagram and LinkedIn pages.