5 Questions with Organizational Change Management's Maria W. Hernandez
After working at Arthrex for nearly a decade, Maria W. Hernandez jumped at the opportunity to be part of the Organizational Change Management Department five years ago. In the latest edition of our 5 Questions series, the Organizational Change Management and Training Specialist talks about why she loves helping people adapt, how all Arthrex employees contribute to Making People Better and where she got her passion for motorcycles and vintage cars.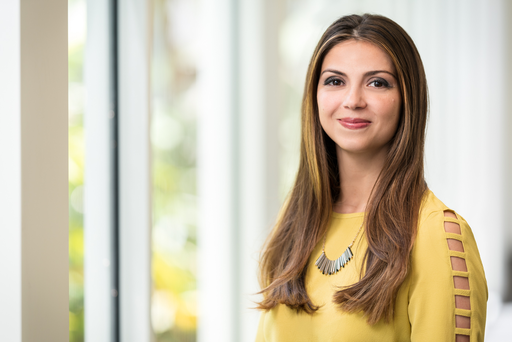 What does a typical day at Arthrex look like for you?
There is never a typical day for me; it's in the title, Change Management! My job is helping people go through their change journey while supporting them to move from their current states to their future states; whatever change happens, my main goal is to help them succeed. We manage local, regional, and global change initiatives, and the cool part is that we get to work with everyone. It's never the same.
What do you enjoy most about your job?
Getting to know people, both new people and having a better understanding of people I have known for years. That's important to me, to know you and understand what is important to you to make your change journey a positive experience. My focus is figuring out how I can work with them to make their lives easier; figuring out how we can partner to achieve great results because of a new system, process, or organizational change.
What has been a highlight during your time at Arthrex?
Having the opportunity to hear [President and Founder] Reinhold [Schmieding] speak to the Emerging Leaders program this spring. I loved hearing what's important to Reinhold and understanding his vision for the company. In Change Management, we're always working with other teams to help them achieve business goals, what's important at the top, so that you can disseminate the information. It was truly a highlight to get advice from Reinhold on how to be a better employee, a better leader, and to understand what are his expectations for leadership.
Our core value is Making People Better. How has Arthrex made you better?
I can say the company made me better when I had a motorcycle accident about seven years ago. I had to have rotator cuff surgery, and I have Arthrex product in my body. It wasn't until I had the surgery and this experience that it made me realize we all have some level of participation in the creation of these products. Every person working for Arthrex contributes to making people better!
What do you do in your downtime?
I love motorcycles, and I love cars. My dad had a car dealership when I was a kid, which is where I got my appreciation of vehicles. I have a Ducati motorcycle I love to ride, and I have antique cars. (Editor's note: Maria entered her 1979 Mercedes Benz 450SEL in the Arthrex Car Show earlier this year.) I love playing soccer; my favorite teams are Real Madrid and Orlando Pride. Traveling and experiencing other cultures are things I enjoy as well.
Find opportunities to join the Arthrex team.