Supply Chain Team Lends a Hand in Immokalee
Twenty-four Supply Chain employees came to Arthrex bright and early on Thursday, November 14, to set out on a rewarding day of volunteering.
The group traveled together from Arthrex Inc. in Naples to Immokalee, where Habitat for Humanity has been building homes for families in need for years.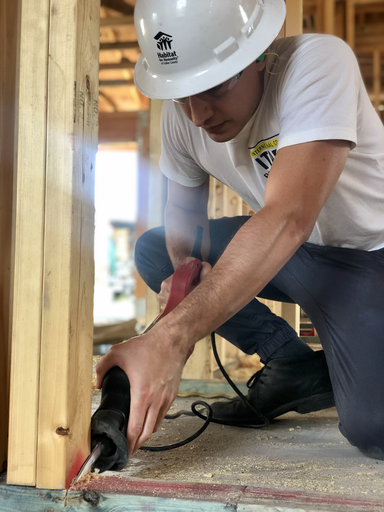 Arthrex is a long-time partner of Habitat for Humanity Collier County, supporting the organization through various events and volunteer activities. It's also one of many local organizations that lends itself to team-friendly volunteering events, perfect for a large group to work on together.
"We arrived to a row of homes in different stages of construction," said Supply Chain Buyer Jessica Weaver. "Some of the homes there were already occupied by residents who put in sweat equity in order to qualify for the home, so we worked alongside several other volunteers and had one resident working with us."
The group was tasked with many different jobs, including organizing and cleaning out shipping containers full of building supplies, hanging insulation, installing windows, framing, caulking, spackling and strapping for hurricanes. The project manager onsite was impressed by how efficiently the team worked and even had them tackle an extra task: laying sod for the new lawns.
"We definitely got ourselves dirty! Everybody had a blast and we left exhausted and ready for lunch. It was a great opportunity to work as a team outside of our everyday roles," said Jessica.
"While in the office, you can get caught up in your day-to-day tasks and may not get a chance to ask others what their hobbies are or get to know more about what they do outside of work," said Supply Chain Buyer Planner III Mark Batties V. "You get a real sense of comradery with everyone in the department since everyone is there to help and give back."
Supply Chain Buyer Planner III Kelly Rinnas said that the team feels more unified after the event. She added, "Something about being in jeans and a t-shirt out on a job site makes conversations with your coworkers more casual and personal. It was quality time spent together."
The most common feedback from Supply Chain team members was that they were astounded to see how much they accomplished in just a few hours.
"We got a lot of work done together and it was great to see the progress of the homes," said Supply Chain Buyer Planner II Forrest Taylor. "Working as a team outside of the office helped strengthen our bond and get to know each other better while having fun."
The Habitat for Humanity of Collier County team was thrilled to have the group helping out.
"Volunteers are the backbone of Habitat Collier," said Director of Volunteers Jury Paulson. "Working in partnership with Habitat staff and future Habitat homeowners, volunteers bring the dream of homeownership within reach for hardworking families in need of a safe, affordable place to live."
Jury noted that every volunteer working with Habitat for Humanity, whether they're pricing items in the ReStores or working on jobsites, plays a critical role in its vision of providing housing for those in need.