Arthrex Inspires Future Workforce Through Hands-On Internships and Co-Ops
Arthrex is proud to support educative programs with schools and organizations in the community and around the country that provide our young minds and future workforce with positive experiences to learn, grow and be inspired. This includes offering a number of internships, co-op and job shadowing opportunities within a variety of departments throughout the year.
An internship is a temporary position with an emphasis on on-the-job training rather than merely employment, and a co-op is a type of internship program that enables college students to receive career training with pay as they work with professionals in their major fields of study. Typically interns work full time for three months and co-ops work for six months.
This summer, approximately 40 interns and co-ops were hired and had the opportunity to acquire valuable practical experience, while enhancing their professional development in areas such as Product Management, Research & Education, Engineering, Medical Education, Supply Chain, Human Resources, Marketing and Corporate Communications, Global Information Systems and more.
According to Medical Education Intern John Masarik, "I've learned how much Arthrex invests in its employees, and that's not something that is commonly seen in today's companies. As a professional, I've been able to develop a lot of skills that medical students in my class haven't even had the opportunity to work on. For that I am very grateful."
This summer's group of interns and co-ops represented schools from throughout the community and country, including: Florida Gulf Coast University, University of Pittsburgh, University of Florida, University of North Florida, Florida State University, Michigan Technological University, New Jersey Institute of Technology, Clarion University of Pennsylvania, Ave Maria University, Hodges University, St. George's University School of Medicine, Southern Illinois University Carbondale and even some local high schools.
"When I first heard about the intern program at Arthrex, I doubted I would have anything to offer," shared Digital Asset Intern Emily Bajema. "After all, I was studying English Education and Arthrex specializes in joint repair—what do I know about that? Over the course of my internships, I learned that Arthrex is more than just a medical device company. Arthrex is made up of a unique group of people united under a common goal. Every employee's individual specialties make this goal possible."
Toward the beginning of each summer, a luncheon is held as an opportunity for interns to interact with employees from various backgrounds, giving them the opportunity to learn more about the different departments within the company.
"The atmosphere is relaxed and celebratory rather than forced or formal, which no one often expects of a networking event," said Emily.
In addition, interns also benefit from a well-received intern panel where Arthrex employees volunteer their time answering questions and imparting knowledge and advice.
This year's panel members included: Employee Relations Specialist Associate Hayley Wonka, Biological Safety Specialist Christine Ho, Meeting Data Specialist Danny Reyna, Sr. Capacity Planning Analyst Drew Josephson, Medical Education Coordinator Kathryn Ortega, Corporate Communications Journalist Danielle Batsios, Manufacturing Suture Engineer Maya Alfonso, Sr. Intellectual Property Counsel Brian Dorn, Staff Accountant G/L Nick Sacchetta, and Engineer Associate – Product Joel Zubizarreta.
As Arthrex continues to grow and expand, the internship and co-op programs are a great way to evaluate prospective employees for future positions.
"Many departments look at internships as extended job interviews," said Lisa Gardiner, Communications Manager at Arthrex. "Interns are put to work and evaluated on whether they make a strong cultural and professional fit within our organization; an assessment that's key to our hiring process and maintaining a low turnover rate."
Over the past three years, Arthrex has hosted 214 interns and co-ops, of which 35 were hired into full-time positions upon graduation.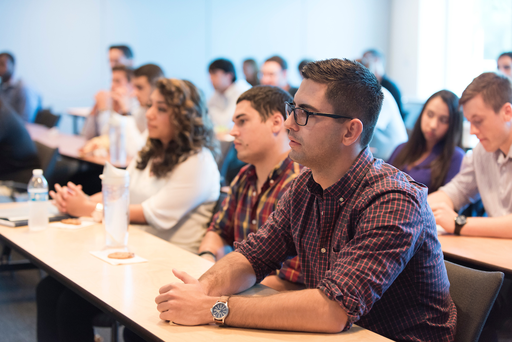 Medical Education Coordinator Kathryn Ortega transitioned to full-time employment after an internship opportunity at Arthrex led her to a path she wouldn't have known about if not for her experience at Arthrex. She shared, "I started as an intern on the Meetings and Events team. After eight months, I transitioned into a full-time role. My supervisors are always encouraging me to reach my utmost potential. I feel very proud to be an Arthrex employee and look forward to the endless opportunities ahead."