Lead Development Program Celebrates 2nd Anniversary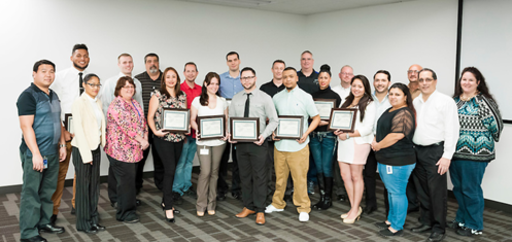 Arthrex is very pleased to announce the second anniversary of the Lead Development Program (LDP), a unique series of training classes designed to identify and develop appropriate internal candidates for leadership positions in Packaging.
In the winter of 2014, the first class of LDP participants began their journey. To date, 70 employees in seven classes have graduated from the program.
The main role of a leader in any organization is to motivate, encourage and provide a good example for employees to work together to achieve organizational goals. In order to be successful, employees need to possess certain skills and qualities so that they are able to perform their job to the best of their ability. LDP is designed to introduce personnel to the skills, knowledge and abilities needed to be a successful leader, and provides an avenue for both personal and professional growth at Arthrex Manufacturing Inc.
"This program gives you the tools and knowledge to help you advance in this rapidly growing company," said LDP Graduate and QC Inspector III Patrick Kirkendoll. "The instructors are excellent, professional and entertaining. I would recommend this program to all who are interested."
LDP has continued to grow and develop over the last two years and is now offered at the Arthrex Manufacturing East (AMIE) and Arthrex Manufacturing North (AMIN) locations to Packaging, Shipping and Boxing, Pre-Packaging and Quality Control personnel. There are currently two classes in progress, one at AMIE and the other at AMIN. Future classes are projected out through 2017 and pre-assessments to qualify for the program are offered twice a year. Participants in the program are assigned mentors for the duration of the program and can seek counsel, advice and guidance from current leaders/leadership here at Arthrex Manufacturing Inc.
"In my 30 years in the medical and pharmaceutical industries, I have found the Lead Development Program at Arthrex to be the most extensive and effective training program I have been involved with," said Packaging Supervisor Joseph Greyer. "I have been impressed from my very first day here with the dedication and determination of all those who are involved in teaching the program in providing the students with the tools they will need to succeed here at Arthrex. Being a supervisor, I am thankful to all those involved in the program, as the students who graduate are well-equipped to be a leader and teacher within their respective areas."
A comprehensive assessment is administered at the end of each segment. There are a total of three to four segments per class. The assessment is comprised of a variety of question types which cover the concepts, principles and information covered throughout the segment. Receipt of a qualifying score is required in order to progress to the next segment. In addition, to qualify on all of the assessments administered, personnel undergo review by a board which is comprised of facilitators, mentors, program administrators, supervisors and management.
It is with great pride and admiration, that Arthrex celebrates two years of the Lead Development Program and its graduates! Congratulations to all!