Live from Arthrex Studio - Now Open!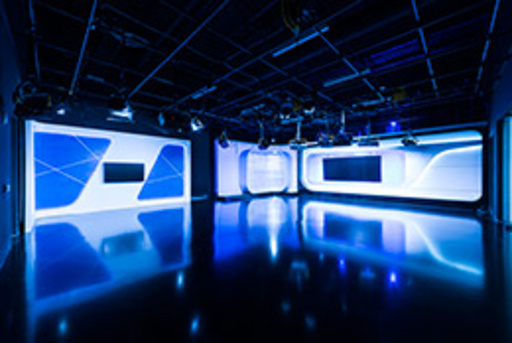 DaDaDa...DaDaDa —the iconic melody from ESPN's "Sports Center" is what comes to mind for most as they enter the new Arthrex Studio, now officially completed and in use by the Photography and Audio Visual teams at Arthrex's Corporate Headquarters in Naples, FL.

Senior Producer Mike Angeloff and Photography Supervisor Zach Johnson worked with a studio design company to create the cutting-edge sets that are part of the new 4,200-square-foot multi-functional AV and photography studio at Inc. East (formerly Arthrex Manufacturing South).

The studio includes three separate shooting bays for producing high-quality videos and live streams for educating surgeons. Five different sets will be used for filming interview segments, product showcases, presentations, demonstrations and a green screen that will allow for endless background possibilities.

"To be able to do multiple productions in-house is very unique," said Mike. "What would have taken 35 man hours in the past to set up, shoot and take down can now easily be done in one day or less in the studio, and multiple projects can be done on the same day by being able to quickly and easily change the lighting and backdrop."

A control room also serves as an editing bay and a voice over recording room, and adjacent to the main studio is a combination conference room/green room lounge that can be used as a set when transformed to look like office or home environments.


The two additional shooting bays are primarily used for photographing products and portraits. The "egg," as it's been affectionately nicknamed by the Photography team for its rounded infinity walls, is a 0-degree cyclorama cove studio that gives photographs an endless illusion with capabilities for optimal light distribution.

"We've designed the studio in a way that would provide an optimum experience for our surgeons, product managers and medical education to be able to create best-in-class educational tools and imagery needed to fulfill our mission of Helping Surgeons Treat Their Patients Better," said Zach.