Arthrex recognized by Gov. Rick Scott for contributing to job growth and technical programs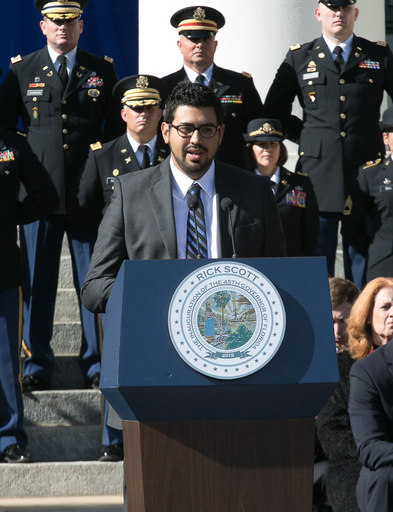 While growing up in Immokalee, FL then attending Florida Gulf Coast University, Data Coordinator Daniel Reyna always imagined he'd begin his career and one day raise a family in his home state. But when Danny graduated and wasn't able to find a job locally, he took the opportunity to move to Charlotte, NC where the company he had been interning for offered him a position.

"When I graduated in 2008, the job market was tough," said Danny. "You have a college degree and an expectation you will get a job right away. I had a lot of friends struggling with this. I was fortunate to be offered a job in my field, even if it was out of state."

He spent the next few years working in Charlotte, NC and Myrtle Beach, SC, but always had a desire to come back to Florida.

Last April, Danny was able to do just that thanks to Arthrex's hiring boom. Starting as a temp. on the Meetings & Events team, Danny soon earned a full-time position as data coordinator and was able to permanently relocate back to Southwest Florida just as he had hoped.


Then in the fall of 2014, Danny received exciting news of an opportunity to be part of Governor Rick Scott's re-election campaign. Danny was selected to represent Arthrex and share his story at many local events, including the Jobs Jamboree held at Arthrex last December and Governor Scott's official inauguration ceremony held on the steps of Florida's capital in Tallahassee on January 6. Danny spoke to the crowd of nearly 4,000 about how the growth of Florida's job market over the last four years positively impacted his life directly.

"Arthrex's growth has been a testament to the economy improving in Florida and throughout the country overall," said Danny. "I was happy to be able to show support for and recognize Arthrex through these speaking opportunities. I love Arthrex and believe in the good we do helping people."

As part of his inauguration speech, Governor Scott shared one of his goals is for Florida to compete globally for jobs by investing in workforce training programs that focus on science, technology, engineering and math (STEM). He recognized Arthrex and other companies for their support of STEM and technical programs.

Three days later, Governor Scott visited the Lorenzo Walker Institute of Technology (LWIT) in Naples and praised Arthrex for its support of centers like LWIT and iTech in Immokalee, and also announced a proposed $20 million allocation of state funds for technical centers.

Arthrex proudly contributes to STEM and technical programs and hires its skilled graduates that are so vital to keeping Arthrex competitive in the global marketplace.