Arthrex Inc.'s Synergy Matrix™ Integration Solution Helps Austria's Vinzenz Gruppe Win Prestigious 2018 InAVation Award
The Vinzenz Gruppe (Vienna, Austria) along with integration partner Jones AV Ltd., won the prestigious InAVation award which recognizes the best integration projects in the world within the audiovisual industry. Vinzenz Gruppe won the award for implementing Arthrex's Synergy Matrix 4K video integration system in multiple hospitals in Austria.
One hospital that was part of the innovation project was the Orthopaedic Hospital Vienna-Speising in Austria where Synergy Matrix integration solution was installed on a fiber-optic network. The new technology enables the hospital to transport high volumes of data over long distances and connects the day surgery unit with the central operating theaters at the other side of the campus. The Synergy platform created a unique integrated environment which allows for seamless data sharing as well as live streaming of video feeds to the Prof. Spitzy-Auditorium, the hospital's anatomy theater and surgeons' offices. The new theaters are equipped with 4K endoscopes and the SynergyUHD4™ imaging platform (Arthrex Inc.), 4K surgical monitors, 4K wall monitors, as well as 360° movable 4K surgical cameras.
Vinzenz Gruppe surpassed formidable international competition, including projects from the University of Northampton Innovation Centre in the United Kingdom, the Macquarie University Health and Sciences Centre in Australia and the Destination Health Project in Poland.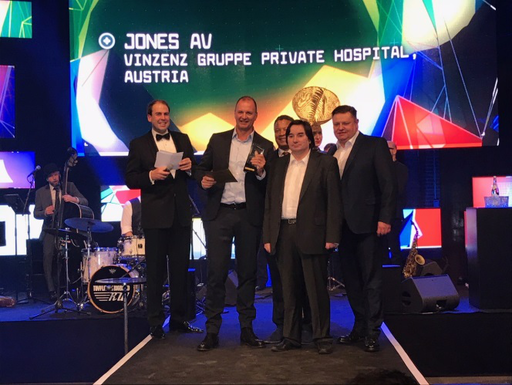 Learn more about Arthrex's SynergyUHD4 4K imaging platform or have an Arthrex representative contact me about this product.
About Arthrex
Arthrex Inc., headquartered in Naples, FL, is a global leader in orthopedic product development and medical education for orthopedic surgeons. More than 12,500 products for arthroscopic and minimally invasive orthopedic surgical procedures have been developed by Arthrex and are currently marketed worldwide.